Talent and skill set – within and beyond rail
Derby is also home to global players in the automotive and aviation industry including Rolls-Royce and Toyota, making it uniquely placed for GBR to benefit from cross-sector collaboration, best practise and a highly-skilled, diverse and talented workforce.
Derby not only offers a huge and diverse rail talent pool but a variety of cross-sector career paths. It's also been the base for the UK's longest-running rail school engagement programme iRail, successfully inspiring young people to pursue a career in the rail industry.
Case study - Sardar Ali, Alstom
When Sardar Ali arrived in the UK he had never been to school and had never heard of Derby.
Six years later, he is finishing a degree in electrical and electronic engineering and determined to repay the industry and the city that welcomed him.
"Derby is one of the greatest cities in terms of engineering and my goal is to give something back.

"I came here at age 16 from Iran with not a word of English. It was a shock. Everything was new. I would watch cartoons like a baby just so I could learn a few English words.
Sardar started school in year 11 and spent his school holidays doing work experience at Alstom, Toyota and Rolls Royce.
"I wanted to learn how to build trains from start to finish. Joining the Alstom group as an apprentice was a massive achievement and honour for me.
He excelled during his apprenticeship and has progressed to Alstom's Test facility, as a qualified Train Driver and Test Technician, where his duties include making sure all the train systems are functioning correctly.
"I was a young lad away from my family, but I did my best.

"I've been surrounded by positive people and Alstom has been more like a family than an employer. I'm now mentoring new staff so they get the right help and support on their journey.

"I would like to develop my technical knowledge further and eventually take on a management position.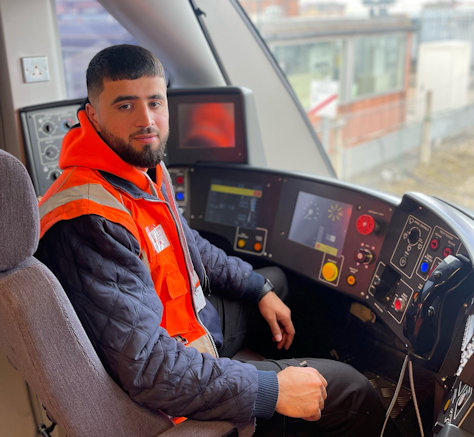 -